Constellations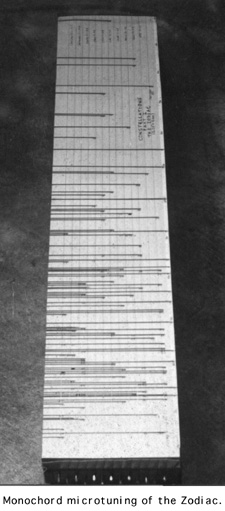 CONSTELLATIONS - A Theoretical
In 1974 while in Germany I took a class in astronomy at the University of Cologne. I considered this composition since that time. The present rendering as a piano trio represents a two-dimensional mapping. Constellations tonally reconstructs a view of the heavens surrounding our beautiful planet. It's a stretch of perception through linear time. The addition of a melodic motive smears the effect in glissandi.

The composition started by dividing the 68 constellations of the northern and southern hemi-spheres into 5 constellar groups. Within each group the constellations were charted star to star using a needle compass. Measurements were read through a magnifying glass using a 100th. inch scale. These groups can be examined in the DATA statements within the algorithm that follows.

The measurements for each constellation were summed as a string length with individual stars as nodes. This is the primary sequence of tones that form the composition. The total of these sums for each of the 5 constellar groups makes up a string length of time placing the star nodes (tones) in a temporal relation.  Here is that tone/time element again, the reciprocity of string length and frequency.  The element of time here is microtemporal and the tuning is well tempered.
The work is piano biased. Both violin and cello parts excluding suspensions double the piano. The placement of tones in the piano part charts the constellar harmonic to one of the 88 piano keys. To make things more interesting I wrote a melody with an attached chordal figure. With the chordal figure transcribed into MIDI note numbers, I was able to test for coincidences with the constellar piano key values and place a glissando at each coincident.